Happy Valentine's Day all! I haven't been around much this week due to pesky hospital follow up appointments etc, but I have finished a little project for a dear friend that I wanted to share here
My friend Cassie loved the grungy effect on Pete's box book thing (technical term) and has been hinting heavily to get me to make her something similar. She is a bit of an amateur chef and collects recipes from everywhere, so I decided to try out an idea for an organiser notebook on her, as a gift.
She wanted something "earthy" and "Tolkien-esque" Blimey! Not an easy request lol…. Anyway, I finished it today and will present it to her later as a sort of Valentine's Day pressie. I saw a couple of You Tube videos on mini book album making and combined a couple of them to come up with this design. It has a signature of good quality plain paper, either end, with 2 pages in the middle with pockets galore to store her recipes in, adorned in pretty patterned paper. The plain paper can be written or even painted on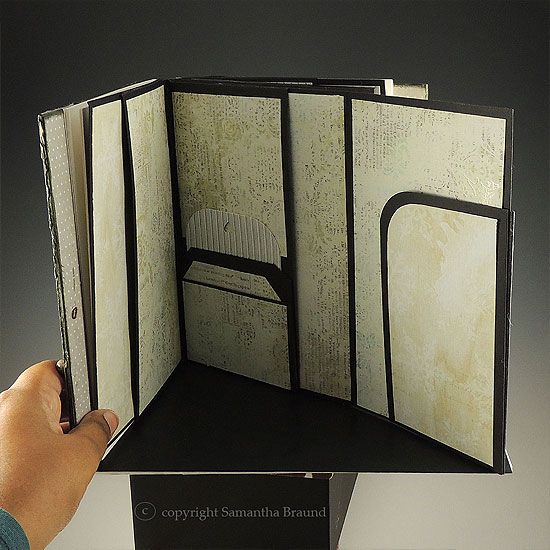 There are many niggles to iron out with the design, like making the spine a shorter width and curving it more gently before strengthening it. There is an obvious kink, which bugs me. I have diligently written down my process, which is so unlike me, but I am determined to do it again and improve upon it! I think I'll also watercolour paint my plain paper first before binding, it needs some subtle background colour
The front cover, has lots of texture, created with die cut shapes and stencilled modelling paste (my new favourite thing to do). Then the whole piece has been painted in acrylic paints, with additional touches of metallic, courtesy of Decoart Metallic Lustre - "Iced Espresso". The focal is a copper wirewrapped Snakeskin Jasper gemstone that compliments the earthy tones I think. I was going for a forest, Celtic kind of look, but grungy! Well, I hope she likes it - she better lol, "Tolkien-esque" indeed!
I entered this piece into the following challenges:
Country View Challenge #12 Painty Pleasures
Anyway, thanks for stopping by :)
Samantha Braund