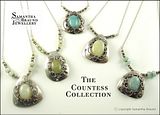 **Click the thumbnail to view the full Countess Collection**
Ages ago I made this little creative breakthrough combining my sterling wire sculptures with fine silver, to create this pendant blogged about
HERE
I finally got round to creating a collection around it. The original one is my own, but I have made 5 new pieces.
I called it the Countess Collection, because they all look rather grand and ornate (they look better IRL, it has to be said)
They will be with me at Spitalfields Market, Jewel East event during London Jewellery Week. Prepearing for this event has been both stressful, and equally has proven to be an amazing motivator
Anyway, here are more pics...