I had to share this new book I've altered for the hubby this week. He always complains that he can't wear any of my jewellery as they're too feminine for him lol. He particularly likes my wirewrapped art nouveau freestyle pieces – so as surprise I altered a papier mache "book drawer" and adorned it with a copper wire sculpted piece containing a variegated Serpentine Jade gemstone
It was a project of many firsts for me tbh. I had never used the papier mache before, it is incredibly sturdy, surprisingly so, and can take acrylic media well, but the drawer doesn't pull in and out as smoothly as it did before I altered it. I didn't seal it first though and did go straight in with the paint, so maybe it got a bit swollen? I don't know, I'll have to get a new one and experiment...
I've also had this jar of Decoart Modelling paste for about 6 months and had not dared use it before…I LOVE IT!! It's so light and easy to manipulate around the piece. I smoothed the paste over cardstock containing an embossed Flourish (Tim Holtz Sizzix) . Another first for me was combining my wire sculpted work with my mixed media work…I think I will have to try more of these lol!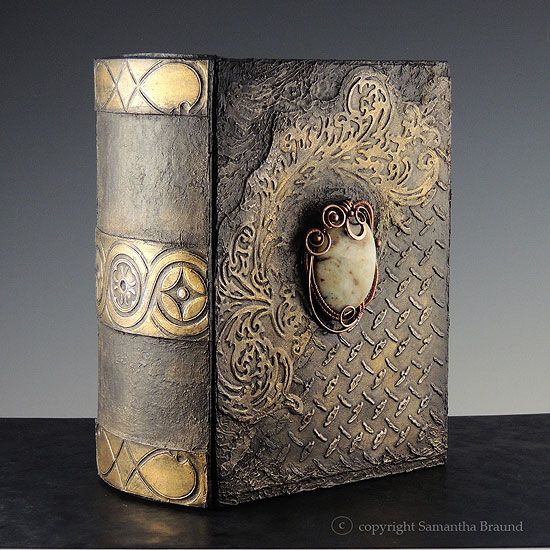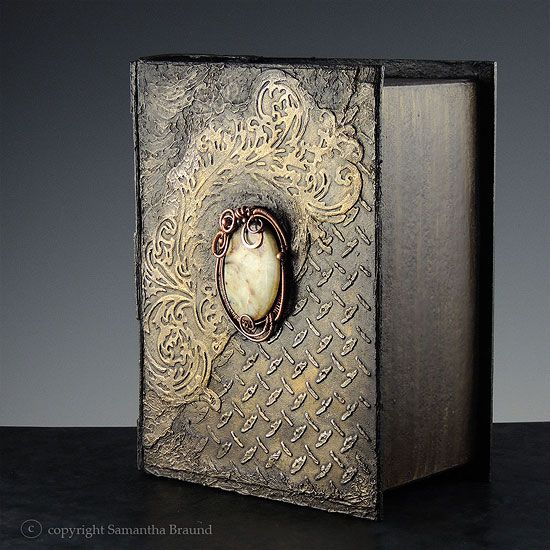 The rest of the book is embellished with aluminium foil pieces. I have been experimenting with inexpensive aluminium foil and various paint effects to develop a cool distressed effect. The cover has an industrial metal design, which gives it a masculine edge, and the spine reminds me of those ancient medieval books that I love. Overall, the gemstone, flourish and industrial metal elements are meant to evoke a Victorian Steampunky feel.
I just can't wait for him to come home and see it, and hopefully he'll find the drawer handy as a desk tidy (that desk really needs tidying!). I hope you love the photos, I noticed that the ones taken in daylight really look blueish compared to the ones taken inside my photo tent…so I included both lots for contrast.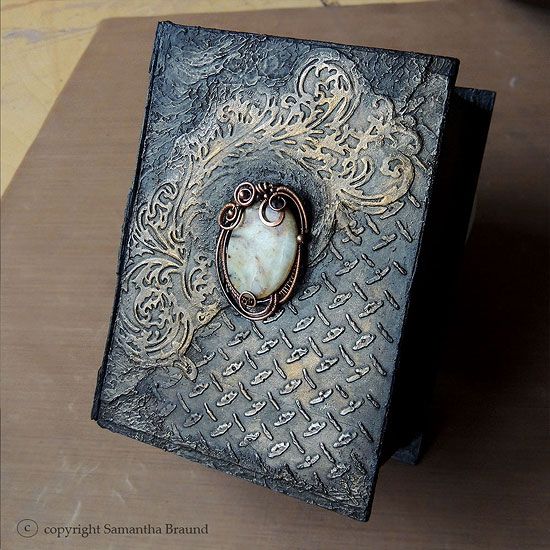 I will be posting these in the following contests
Simon Says ...Emboss It (Simon Wednesday Blog Challenge)
- embossed Sizzix Flourish
Our Creative Corner Blog - No More Shopping Sins Challenge
- Papier Mache Book Drawer, Decoart Modelling Paste and even the Serpentine Jade gemstone which I've had since 2010!!
Ali Craft Blog - Anything Goes Challenge
Samantha Braund