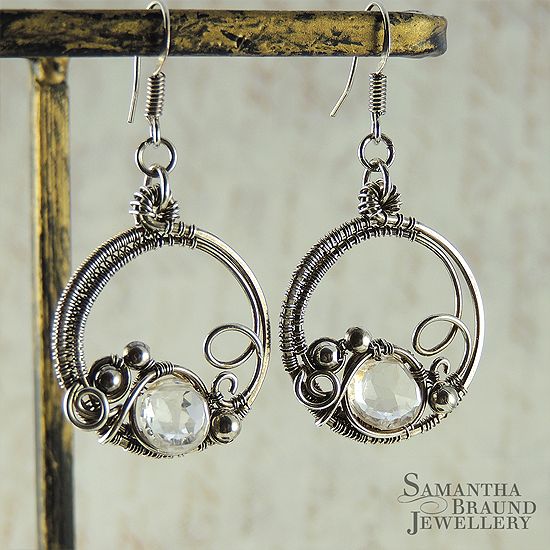 Since I last blogged I managed to injure my hand slightly through being a little to cavalier with my metal files.The upshot was no jewellery making for a few days, which ended up being a bit of a blessing - I got to mess around with other media and work on my ideas for the second shop. The shop which has yet to be created on Etsy, will be different to the jewellery one, and will be full of altered art journals, polymer jewellery and mixed media art and paintings probably.
I have been doing experimentations in base metal clays, plaster and acrylic paints, and ended up purchasing way too many craft supplies - I suppose I got overexcited, but I always go by my instincts and this is how my wire and metal clay work got to be of a standard over the last few years. My experimentations always seem a little out there, and this stage seems never ending, until finally it all comes together and I refine my processes and the outcomes really start to take on a life of there own. Over time I am more accepting of my methods and enjoy the journey more...
Anyway the other thing I got around to finally is the Facebook Free Giveaway. I have worked hard for all my incremental rises in popularity for my jewellery pieces, and had never felt inclined to do a giveaway before, but over time I had accumulated so much work, that I wouldn't even do anything with. Mostly it's because I think the work isn't good enough to put up for sale lol...and these earrings are a prime example of that. I have had them at home for ages, never worn and never listed in the shop. The reason is because I loathe trying to match earrings at the best of times - I am such a freeform artist that this degree of meticulousness is painful to me lol. So, after working on them for ages I realised I hadn't made them as mirror images, and they actually matched instead. I was livid, and put them away in a huff and left them there lol
The respite meant I a bit of spring cleaning and I found them again, polished them up, and thought why not put them up as a giveaway...well so far the reaction has been wonderful. I am getting new likes for my page and garnering a lot of positive feedback for my work in general. It makes me wonder why I had never done this before lol!
Anyway the giveaway is still ongoing, once my Samantha Braund jewellery page hits the magic number of 1111 likes, I will collect all the names of those who've shared the Giveaway post and will video Pete pulling the name out of a bowl or hat...it's all good fun and the earrings themselves are made from Sterling silver and rock crystal faceted briolettes...so it's a good prize too. If you are interested in participating then just hit the link
HERE
to my FB jewellery page and follow the instructions...
Well thats it for now, enjoy the photos of the earrings :)
Samantha Braund