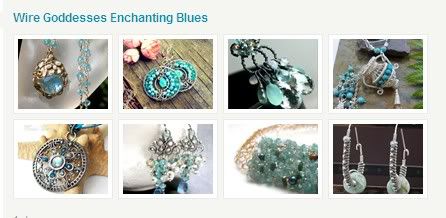 (click the image to view the collection in full)
I became a member of the Wire Goddesses Team on Etsy this week, which was lovely. I remember mentioning here that selling online is quite a cold business compared to selling in person. Etsy seem to be aware of this, and have various ways to conjure up a sense of community there, amongst it's sellers. I found joining Teams and making Treasures kinda fun
Treasuries can be time consuming at first, but I'm sure that,any creative person would enjoy curating their own mini gallery, from all that Etsy artisans have to offer.
I made the first one, based on the theme of Enchanting Blues, using creations made by members from The Wire Goddess Team. There were tons to choose from, and the end result displayed a nice variety of wire sculpted jewellery, I think.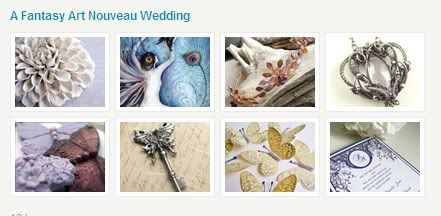 (click the image to view the collection in full)
The second one was a whimsical collection based on the theme of An Art Nouveau Wedding. All very pretty, with hints of bridal wear and fantasy thrown in there.
I didn't expect to enjoy the process, but I really did. Also the unexpected spin off, has been getting to bond with lots of the artists featured in the treasuries :)...so I'd recommend it to anyone