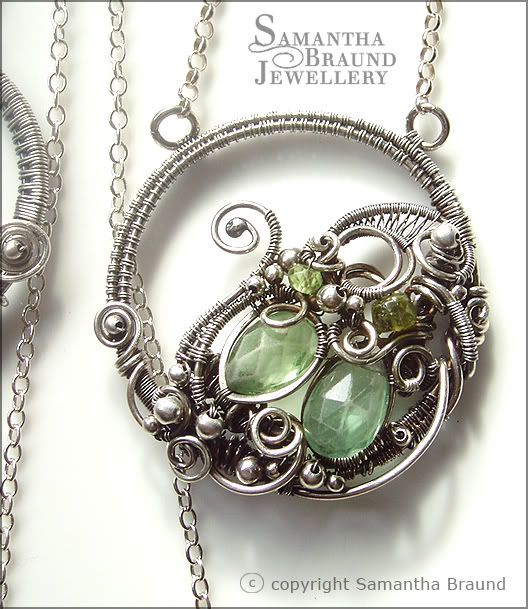 (the latest press release)
Samantha Braund Jewellery's signature organic free flowing style is encapsulated in her Gemstone Circles Collection
The idea behind these sculpted pieces, was to create a vignette of a natural landscape, that can be worn
Inspired by natural forms seen in nature, these pendants contain intricate vignettes of tendrils and swirls, weaved in sterling silver. The gemstones lend themselves to being interpreted as flower buds, or dew drops, given their faceted glistening nature.
The whole scene is captured within a circle, where the negative space created by it, balances out the "chaotic" organic elements, mimicking nature itself. The overall appearance is very satisfying
Each gemstone circle is unique and has its own character, and inspirational source. The Spring Awakening Gemstone Circle is full of green faceted gemstones such Fluorite and Peridot to represent the feel of the first flush of green seen in Spring. The Ocean Cluster Gemstone Circle contains freshwater pearls and a Blue Chalcedony gemstone inspired by ocean sea life
This collection, amongst many others , will be available to purchase at the Jewel East event, at Old Spitalfields Market, 6th -12th June 2011.
To view other collections to be presented at Jewel East, go to the Gallery pages of www.samanthabraundjewellery.com
www.samanthabraundjewellery.com
mail@samanthabraundjewellery.com