Pearl Barnacle Cluster Necklace (Shipwreck Jewellery collection)
I had a wonderful time at the Jewel East event, London Jewellery Week.
Being as I work from my home studio, I don't get to meet many other artists, and I was surrounded by loads of them for a whole week!
The most amazing thing for me really, was exposing my work, to the public for the first time ever. I had absolutely no idea what to expect, and I'd tried to cover all eventualities. I'd made lots of more commercial looking pieces, at all price ranges, in case people did not take to my more unique jewellery pieces.
However, I could not have been more wrong, because the response was unbelievable. Even people who could not afford to buy anything at the time, felt compelled to tell me how much they loved my art work
It turned out that the more unique, "out there" pieces, which are my main passion, were the jewellery collections that really connected to people. They loved them, and wanted to know all about the creative process too
I was thrilled I can tell you! The whole experience has given me such a boost, and has given me a lot more faith in my creative self. I don't think any artist can ask for more really.
By the way, I am in the process of setting my Etsy online shop. There will be jewellery available to purchase from 20th June 2011 if all goes to plan :)
Anyway, here are some of my most beloved pieces that have now been sold, and gone to new owners and new homes. I will miss them terribly LOL
Aquamarine Necklace from the Mermaid Amulet collection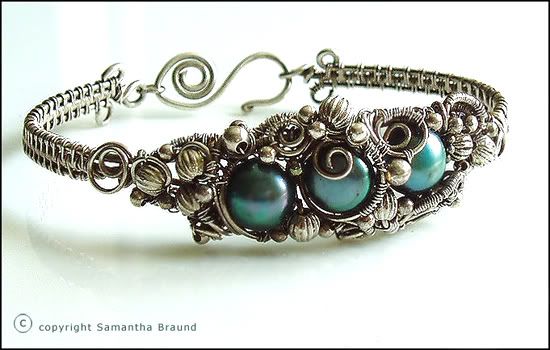 Pearl Barnacle Cluster Bracelet (Shipwreck Jewellery Collection)
Peridot Genie from the Genie In A Bottle Collection
Persephone from the Goddess Collection
Lemon-Smokey Bicolour Quartz and sterling Necklace